Overview
Item Reviewed
The Lumberjack Slam Deck (2800 to 3000 Trophies)
July 11, 2016
Awards
Arena 8 Winner
Arena 9 Winner
The Lumberjack Slam - Clash Royale A9 Deck (up to 3000+ Trophies)
Hi guys! Today Voloster is showing us his last deck, using one of the last legendaries cards, the Lumberjack! With as low as 3.1 average elixir cycles the deck quite fast. Let's have a look.
Come on and slam! Welcome to the manliest deck in Clash Royale!
Cards Breakdown
LumberJack - The man, the myth, the legend himself, his game plan is kamikaze for all your other troops and produce the sweet sweet Rage nectar.
Ice Spirit - Amazing cycle card also freeze ability is so strong in this deck. Place behind Lumberjack in the center of your horde to further emphasize the damage you are about to unleash.
Goblin Hut - Air defense, plus hut spam we know what this card is good for to overwhelm especially in double elixir.
Spear Goblins - Air defense, cycle card, helps beef up your horde and protect your main man the Lumberjack.
Ice Wizard - Excellent for dealing with everything and great horde/Lumberjack back up.
Furnace - Second most important card in the deck, fire spirits absolutely destroy everything air and ground and reek havoc on towers when following a horde.
Fire Spirits - Great cycle card, good defense card against musketeers, barbs, hog rider.
Fireball - Emergency reset card/tower clean up.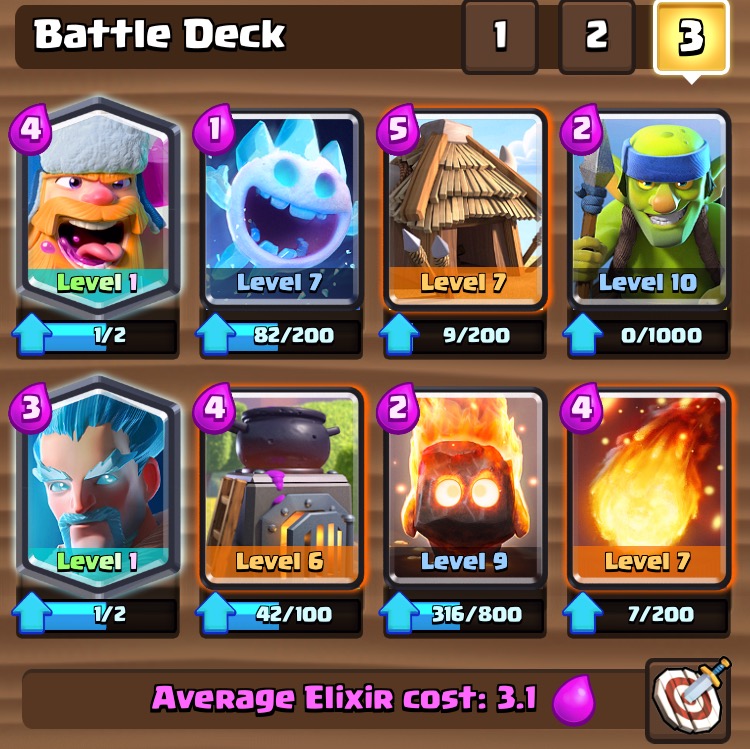 Deck Strategy
This deck is centered around getting Goblin Huts down and building a swarm of cheap cards only to be lead by their fearless leader, The Lumberjack! The goal is to get the Lumberjack to the tower, he hits like a small truck but is not super tanky which is fine because we want him to die. You should always have him followed by an Ice Spirit and Ice Wizard because the freeze+slowdown+raged up horde absolutely annihilates everything in its path. The biggest weakness this deck may have is the Bowler and Arrows, otherwise my experience thus far has been tremendously positive. This deck is absolutely terrifying in double elixir so if you feel yourself falling behind defend until double elixir and then go hut happy.
Praise be to our lord and savior The Lumberjack!