Overview
Item Reviewed
Goblin Barrel & Miner Deck Tournament
July 17, 2016
Max Trophies
Highest 10% of the tournament players
Awards
Tournament 10% Winner
Goblin Barrel & Miner Deck for Clash Royale Tournaments
I've been recently working on a new deck archetype and have finally refined it to the point where I can present it to the community. The deck aims to overwhelm an opposing tower with a quick attack using units that can spawn directly next to the enemy tower. Against an unprepared opponent, the attack can take down a tower in a very short period of time!
I have tested the deck primarily in small tournaments (I haven't been fortunate enough to play in the larger ones) and can place in at least the top 10% (depending on the skill level of the players in the tourney). I haven't tested the deck in the ladder because of the lack of sufficient card levels.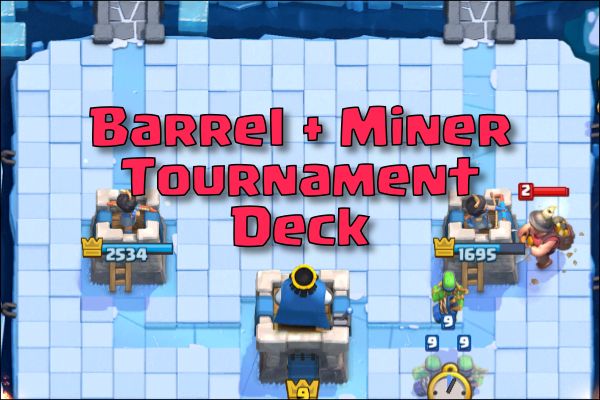 Cards Guide
Miner - Tournament staple. It has all the versatile uses that a Miner offers to a deck like taking down enemy pumps, or the squishy hard-to-reach princess at the rear of a big push. It is also used to tank for the Goblin Barrel, allowing massive amounts of damage to be dealt.
Goblin Barrel - An offensive tool that combines well with the Miner. It is usually deployed to take down an enemy tower. It is easily countered by enemy cards such as Zap, Arrows, and Fire Spirits - so you need to keep track of their availability if the enemy is using them. It is also important to mix up the deployment of the Goblin Barrel so the opponent has to read where to deploy the cards to counter it.
Minions - Versatile defensive and offensive card. On offense, it can be used as a substitute to Goblin Barrel to combine with Miner and take down the enemy tower. On defense, it can deal with medium ground units such as Valkyrie, Barbarians and Mini-P.E.K.K.A. It's also a great card to lure out the opposing Zap and Arrows.
Mini-P.E.K.K.A - Another versatile offensive and defensive card. Everyone should now be familiar of the massive amounts of damage a Mini-P.E.K.K.A can dish out if allowed to get to an enemy tower. On defense, the Mini-P.E.K.K.A is used to kill units such as Giant, Royal Giant and Hog Rider. The Mini-P.E.K.K.A can also be used as a tank to protect your smaller units against splash-damage such as Fire Spirits and Wizard.
Inferno Tower - The missing piece of the puzzle. The deck used to struggle against an opposing push backed by a huge tank. This defensive card shuts down non-swarm-based pushes and makes sure that you can keep your tower after taking theirs down.
Fire Spirits - A cheap card that easily cycles and can be used offensively and defensively. It is more effective defensively, since you can deploy it at the right spots to devastate small troops such as Minion/Horde, and Spear/Goblins. However, there will be spots where you need to use it on offense just to cycle your deck.
Ice Spirits - Same as Fire Spirits. The thing to note here is that Ice Spirits are not effective alone, and require the presence of other units to take advantage of the freeze effect.
Zap - Another tournament staple. It can combo with Ice Spirits to take out a Minion/Horde, win Mini-P.E.K.K.A wars, reset Sparky, give you the extra second to kill the enemy tower, stop Hog Rider from getting that second hit, and a lot of other good stuff.
How to play the deck
Offense The best offensive salvo is Goblin Barrel + Miner. If you use the quickdrop technique, the deploy time of Goblin Barrel and Miner is such that the Miner pops up first and draws aggro from the enemy tower just a split-second before the Goblin Barrel lands.
You can follow up the salvo with Minions, or both spirits. Mini-P.E.K.K.A. can also be used if you are holding accompanying splash like Zap to get rid of small distractions.
Watch the developments, and decide whether you can deploy more to finish the tower, or save your elixir to defend against the counter push.
At the start, you can also wait for your opponent to deploy a troop, then immediately push the other lane. This will ensure that your opponent is at an elixir disadvantage when trying to defend.
Defense It is very important that you keep your first tower. Your offense is a significantly weaker when trying to attack an enemy with their central tower active. Winning 1-0 is the easiest way to achieve victory.
Most likely, you will be at an elixir disadvantage when defending against a counter push. Effective use of your Zap, Fire Spirits, Ice Spirit and Inferno Tower is important to recoup those losses.
The basic concept here is to use your splash spells to get rid of small troops and inflict maximum damage against the medium troops, then use Mini-P.E.K.K.A. and Minions to clean up. Inferno Tower will take care of the large and medium units, as well as tank some damage against Hog Rider and the like. Effective use of stuns is also important to minimize enemy damage.
Problem Cards
Wizard - This is a very effective defensive card, and can shut down your Miner-Barrel combo by itself. Fortunately, this card does not see much play in the tournament setting because it is generally weak and less effective against the rest of the metagame.
Conclusion
This is a very fun and dynamic deck that will make for an exciting game. It is a bit of a gambit deck, and relies on the element surprise to achieve some of its wins. It does not do as well when your opponent knows what you are up to, so be sure to switch your decks up to make sure you are not scouted.