Overview
Item Reviewed
Double prince is back! Legendary Deck Counterpush
July 21, 2016
Max Trophies
Not confirmed
Double prince Clash Royale Deck: Legendary Counterpush
Glow8 is today presenting his Doube Prince deck. I need to say I've seen quite a few games with this deck and it works wonders. And now, let's go for the deck:
I've been using a new deck with the typical Double Prince combo, since I'm bored of the Miner/Royal Giant/Hog Rider
Average Elixir Cost: 3.3. It's a really fast deck, you have to be attacking everytime so the enemy hasn't got elixir enough to drop a tank combo. It's a really annoying deck YES You can use the Ice Wizard instead of the Princess. NO you shouldn't try this deck if you haven't got the Princess/Ice Wizard. Maybe you could use Arrows / Spear Goblins. (you should use a troop that attacks flying troops) You can change the Cannon and put Guards instead, but I prefer to have a building to distract and kill the Hog Rider easily
The purpose of the deck is to use the defense to attack, too. For example, if your enemy drops a Royal Giant, just use the Mini Pekka. After you kill him, drop the Dark Prince or the Fire Spirits. You can use the Prince to defend, too. It does 290 damage at level 3, so it's like a Mini-Pekka with less damage but more health, so you can use it in your counter attack.
The other important purpose is to make the Prince reach the tower, it's not like the Hog Rider, or the Royal Giant. A Prince/double Prince does so much damage. One Prince hit while he's charging does 580 damage, but the hardest part of the deck is to make them reach the tower. If you use this deck you have to learn a few attack techniques. Using just the Prince is actually hard because it can be easily distracted, so you should try that: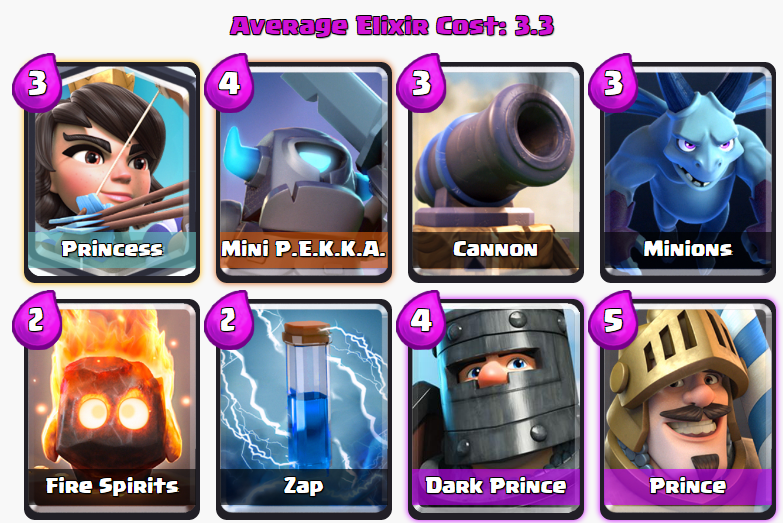 Best attack combos
Prince + Fire Spirits + Zap = Kills Barbarians in less than 3 seconds
Prince + Fire Spirits + Princess = Kills Barbarians in less than 4 seconds
Double prince (you should add the Fire Spirits so the enemy can't counter you with flying troops) = RIP Tower / Half Tower
Dark Prince + Mini Pekka = if you put the Mini Pekka in front of the DP, it will get to the tower REALLY fast, but as it hasn't got much HP, the Dark Prince should go in front of the Mini Pekka, so the tower keeps attacking the DP and the Mini Pekka does its job. Anyway the DP + Mini Pekka is a great combo if the enemy hasn't got much elixir or the tower hasn't got more than 500 HP
Dark Prince + Minions = Great idea if the enemy has barbs. Maybe he'll drop them, so you will be able to do a prince attack easily
Best defense combos
Hog Rider -> Cannon, you can use a Zap if it has Minions/Goblins or a Mini Pekka if it goes with a Valkyrie.
Royal Giant -> Mini Pekka You can add a Cannon/Minions if you don't want to receive e much damage.
Sparky -> Dark Prince has a shield, so you can use him to distract Sparky. Anyway you can use the Zap/Fire Spirits The best way to kill a Sparky + Giant/RG combo is a Zap + Mini Pekka, so it kills the sparky in 2 hits and he's still alive to get rid of theRoyal Giant. You might win over 6 elixir if you do that
Miner + something -> If that something are Goblins, Zap. If it's Guards or Minions, use the Minions. You can use the Zap, too. He might drop Fire Spirits. To kill the Miner you can use a Dark prince/Prince/Mini Pekka so you can do a great counter attack.
Lava hound -> Princess behind the tower to kill the stupid lava pups. You can use a Zap instead, but you won't hill all of them. You shouldn't use the minions until he throws his arrows to kill the princess or until he uses his Baby Dragon (use them when the baby dragon is hitting the tower) You should use the Cannon if it goes with a Baloon to distract it and then Minions or Fire Spirits if its heath is lower than 40%
3 Musketeers -> a funny way to kill them is Zap + quick Fire Spirits or Zap + Mini Pekka.
Weaknesses
Giant + 3 musketeers is hard to stop, but i've won many battles against that type of decks
Balloon + Lava Hound: When someone does that, i'm like GG. It's hard to stop but it's kinda funny to distract the Balloon with the Cannon and then use the Minions or Fire Spirits
THATS IT YEHHH. I hope you like the deck. Excuse me if my english isn't perfect, I'm spanish :p See you in the comments ( ͡° ͜ʖ ͡°)