Overview
Item Reviewed
Clash Royale Arena 9 Deck – F2P PEKKA Deck – 3400+ Trophies
July 4, 2016
Best Clash Royale Arena 9 Deck with P.E.K.K.A. and Three Musketeers
The deck has multiple win conditions. But the most efficient way I use it is to make a huge push on one side to overpower the enemy. This usually starts with my Pekka at the back with Fireball, Zap, Barbarians at the ready to counter anything they throw at me. Then Three Musketeers behind the Pekka with Zap ready if still up to drop on whatever they drop on the Musketeers.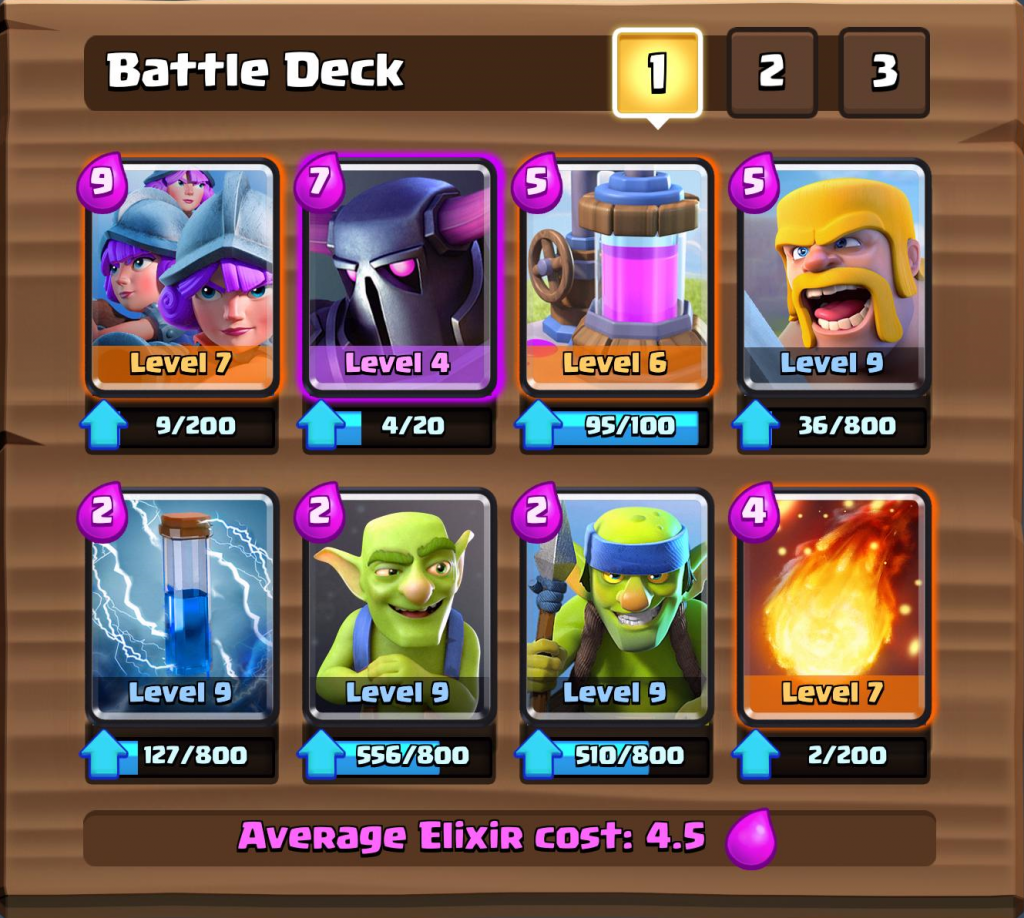 This deck main weakness is rocket or Fireball/Zap combo or someone that has a Fireball higher level than your Three Musketeers because it 1 shots them. I recommend only using this with level 7 Three Musketeers if you want to reach legendary arena as so many people have level 7 fireball. Level 8 is a lot more rare to see 3400 and under.

Even when they have any of these counters, you can still win. That's the beauty of the deck. If they use their counter on the Three Musketeers you can still make a strong push with the Barbarians/PEKKA/Goblins and they have no splash left to deal with it usually. You can also play mind games with the enemy and force them to Fireball/Rocket at the wrong time.
It took me a while to learn how to win when these counters are present but it is definitely possible. I probably do around 50%+ of the time.
When they don't have the cards I mention, the win rate sky rockets to around 80%+
Sparky is my favourite card to go against as a Pekka can eat 2 shots of it and Three Musketeers can shred anything they put ahead. A well timed Zap also resets Sparky and I usually overwhelm them before they know what hit them.
The hardest thing to go against is those people running Ice Wizard, Princess, Royale Giant decks and have much higher than tournament level cards, but it is still possible to win if they make any mistakes. The sheer power of my deck is usually underestimated and I win a lot of games vs level 10 and 11 players with much higher cards because of this. Often I 3 crown in the 1st 30 seconds when you catch them off guard.
Try it out and let me know if it works for you!
Uploaded a game vs a level 10 player using Fireball/Zap and Inferno and Ice Wizard. Literally all my counters + higher level cards than me and I still win.