7 Ways To Defend Giant + Mega Minion Push
Hello all,
You may remember me from my (Musketeer + Ice Spirit Tech Guide) which was recently featured by Orange Juice! Today I bring you a quick guide on 7 different ways to counter the new Giant + Mega Minion push. I tried to vary to defensive cards I used to be applicable to a variety of decks.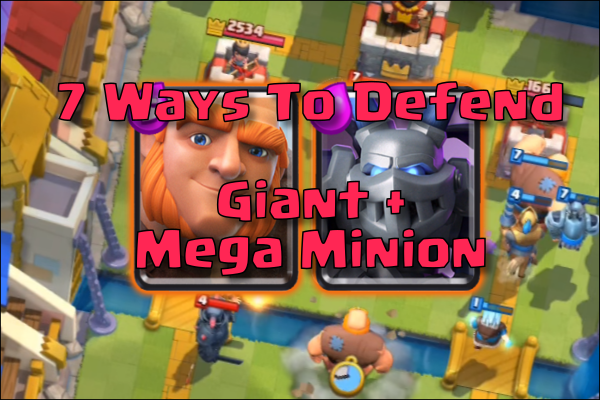 Thanks to these people for helping me to record the clips:
And always, some Fun Facts
My Personal Best is 3961 using this deck
My goal is still to hit 4000 with 9/7/4/1 (so close!)
I am do not yet have all cards to tourney cap.
I am in Reddit Bravo and the Super Magicals
My favorite card design is Sparky and my favorite card animation is Lumberjack drinking his bottle of elixir during his deploy time.
Giant + Mega Minion
Even with its recent release, Mega Minion has already secured its place as a staple card in the Meta, with /u/ClydeCR granting it S Tier in his most recent Tier List. It's versatility and ability to transition from defense to offense make it a popular choice in Giant Poison, Miner Inferno, and Lava Hound Miner decks. The combination of Mega Minion behind a tank makes for a intimidating push for as little as 8 elixir when paired with the Giant, also S Tier. With the lack of Air Defense in many decks, this simple push can be devastating if not dealt with correctly.
Biggest Thing to Remember
Separate the Giant + Mega Minion - When the Mega Minion is directly on top of the Giant, it is very difficult to place defensive troops to target the Mega Minion instead of the Giant. Since Mega Minion is the troop you should focus on killing first, pulling it away from the Giant is key for a solid defense. Excellent cards for this are: Buildings, The Log, Ice Spirit, Skeletons, and Spear Goblins.
Examples: 7 Ways To Counter Giant + Mega Minion
These are not the only ways to counter this push; I tried to use a variety of cards in the time I had.
Special Lava Hound Example - I did not have time to compile more Lava Hound clips, however it is VERY fun to watch the Mega Minion be kited across to the other side of the map. It is crucial to place the Skeletons as late as possible so the Mega Minion chases the two Skeletons to the side after killing the first one.
Thank you for taking the time to read this quick post. I hope you learned something from the guide. My next one should be more detailed including GIF's. If I hit 4000 with 9/7/4/1, I will do a deck guide with replays if there is interest. Otherwise, expect more GIF posts. Questions? Comments? Criticisms? All is welcome in the comments below.

Clash Royale Mini Pekka vs Barbarian - Who Is Better?A Barbarian vs Mini Pekka conversation is a tough call. Having played a lot with Royal Giant decks, Giant decks, and Hog Rider decks, both will wreck your tank/win condition. They both play the same role in the current meta, that is to take down tanks (Royal […]

Best Clash Royale Decks Season 3 - Meta BreakdownHey gang! It's The Rum Ham with a quick writeup on the third season of ranked ladder after Global Launch. I'm not the best player but I enjoy trying out all the different decks in Clash Royale and learning how they work.This piece will be a reflection […]

Hey gang! The Rum Ham is here to talk about the Clash Royale metagame. People often talk about the meta in terms of specific units, like "its a Prince meta" or "everyone plays Tombstones", but this can be a shallow understanding of what is really happening underneath individual card choices.The metagame is really the share […]