Best Clash Royale Decks Season 3 - Meta Breakdown
Hey gang! It's The Rum Ham with a quick writeup on the third season of ranked ladder after Global Launch. I'm not the best player but I enjoy trying out all the different decks in Clash Royale and learning how they work.
This piece will be a reflection of the top archetypes seen in 3000+ meta. I spent nearly the entire season in the 3900-4100 range, peaking at 4161 (with Royal Giant! Deck below). These are simply my opinions, I would love to hear other opinions and disagreements from other players!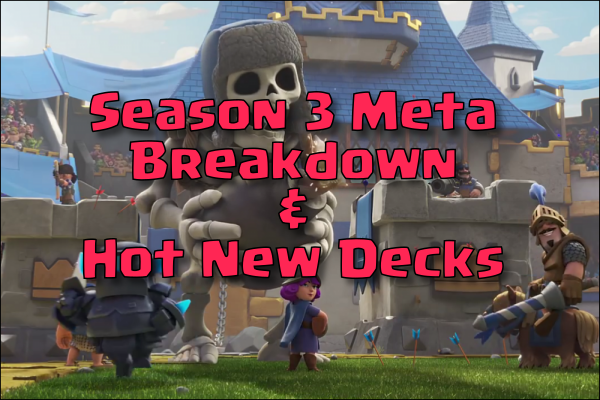 Summary of the Meta:
Quick shoutout to CC for placing 1st last season. CC has long been the highest ranked Level 10, and finished on top of the leaderboards. I know it's tempting to blame losses on card levels, but if a guy who is always underleveled finishes #1, that's a testament to the importance of skill in Clash Royale.
As more decks are discovered, the meta feels very balanced. Skill is taking a larger part in the matchmaking as archetypes are maturing to be well-rounded and players learn their counters more intimately. I'm ready for new cards to shake up this meta!
I'll cover what I perceive as the best new/breakout deck of Beatdown, Control, and Siege archetypes of the last season. Instead of exact deck lists, I'll cover the core cards and strategy and use a section at the end for common 'filler' cards in the archetypes.
Beatdown Deck of the Season: Anti-Arrow Exploitation
This deck has taken TV Royale by storm! This is a linear Beatdown deck in that it's trying to break you over one test - your ability to counter swarms. If you run 3+ Area of Effect Spells or Troops, this deck may not seem threatening - but I'll bet you're hoping to get by on an Arrows and Spear Goblins. This deck tries to catch you flat-footed without answers to its various cards that usually require Arrows to deal with. They run 4 cards you have to Arrow, and unless you are prepared you can feel helpless.
Your ideal line of play is playing a Giant Skeleton far in the back to invest the Elixir for later. When the Giant Skeleton crosses the bridge, the great Arrows test begins. Spear Goblins behind the Giant Skeleton. Goblin Barrel at the Tower. The opponent faces two simultaneous challenges - deal with the Goblins since the Tower is shooting the Giant Skeleton (Arrows?) and stop that bomb from reaching the Tower. Meanwhile the Spear Goblins are killing distractions. If Arrows killed the Goblin Barrel, you are clear to drop Minion Horde, Minions, Skeleton Army, whatever.
The deck can be flexible but the general idea is distracting the Tower with a single tanky unit then pressing your opponent for AoE answers until they break. If the opponent shows you specific cards (Valkyrie) then lean on your air units. Freeze is a common but not necessary addition.
WE OUT HERE FAM! Three Musketeers has been a personal favorite since their release - with the recent buff to 9 Elixir the sisters have come into their prime. Control decks try to commit 3 or fewer cards to their win condition - why not just one card? Three Musketeers control emerged as an efficient control deck that could dedicate lots of slots to efficient, cheap counters and seal the deal with Three Musketeers.
While you can cast them on defense against a threatening tanky unit, this deck often casts Three Musketeers behind the King tower with the intention of splitting them up. With 1-2 Musketeers in each lane and an Elixir Collector to refill your Elixir, you can play the Control game and support whichever side you feel is more advantageous.
The power play is to play you tanky unit in the far back (with Collector or defensive tower support), then back them up with Three Musketeers. This resembles a Golem + Wizard push, except with lion's share of the Elixir invested in the backline instead of the tank. Three Musketeers require an immediate response and you don't need much time to devastate an opposing Tower. 3-Crowning isn't out of the question!
Siege Deck of the Season: Spawner City
I said in my Season 2 summary that Spawner decks were on the up and up and they arrived this season. Spawners became super popular as the meta adapted to Mortar decks. Balloon's resurgence since its buff as a powerful win condition and counter to Mortar has allowed spawner decks to thrive without Mortars/Rockets preying on them.
The hardest part of this archetype is sneaking a 7-cost building down and not losing a Tower to it. Double Prince decks dream of their opponent casting Barbarian Hut, so don't give them an opening. Having solid defenses down and a good selection of cheap units is critical before you start dropping spawners.
You need direct damage spells to deal with enemy ranged units. 2 Barbarians march like lemmings to their deaths against Musketeers, Wizards, Witches, Ice Wizards, and Princesses. Fireball is a great catch-all to most of these problems and doubles as punching through the final chunk of damage. This could be Freeze or Lightning too, but the important thing is that you can't sit back and let opposing ranged units farm your spawns.
Popular Filler Cards:
Valkyrie feels like she's hit the big time. One of the most popular cards across all archetypes, she counters a wide variety of enemies while being SO TANKY that you can't ignore her on the counter push. Valkyrie + Freeze is one of my favorite combos that answers nearly every situation (including the ever-terrifying Three Musketeers).
Ice Wizard is another Troop that feels like never a bad addition. Low cost, AoE, high HP - a card with so much upside and so few weaknesses is an easy toss-in (if you are lucky enough to have one)
Rocket feels like one of the defining cards in tournament play. Rocket (to a lesser extent, Lightning) is a card that can be built entirely around. Decks playing 3+ defensive towers can cycle Rocket + Fireball to grind up wins especially with a 3 minute OT. While not that strong in the ladder because of how often it draws, my prediction for this weekend's Supercell tournament is that defensive Rocket cycling decks are going to overperform. The top 4 might be entirely Rocket decks (with or without Mortar)
My Best Deck featuring ROYAL GIANT (3.9 Average):
I kid you not, I went on a 5 game winning streak (part of a 7-for-8 run) to reach my personal high of 4161 with a Royal Giant deck. Warning, this deck is hard to play. I'm pretty sure 2/3rds of my losses are directly due to my own constant misplays:
You can replace Royal Giant with Giant Skeleton or Hog Rider for a similar effect if you aren't in Arena 7, but the big boy is really satisfying. He hard-counters Mortar and survives with 50%+ HP, burns down Tesla Towers, and lets Spear Goblins build up behind him. He's cheap enough to get two out in OT and that a pretty certain Tower kill.
Be aggressive with spawners, don't let your 3 expensive cards build up in your hand. Knowing when to press with Royal Giant is key, some decks its worth cycling him as often as possible, other times you don't cast him until the last minute to seal a win. Freeze is equally good on defense and offense since you have reinforcements from spawners.
There will be a lot of delicate Arrow and Princess wars given how popular Princess is, the best line of play is baiting Arrows first, then using your Princess to kill their Princess. This is unreal difficult to predict in real time and can result in a ton of lost value.
What to Change for Next Season?
Witch has been getting slight buffs but still feels just out of reach. I don't think damage increases on her main attack are needed (too close to Wizard), but I'd like to see faster spawning Skeletons. This would let Witch snowball a bit stronger, and distract PEKKAs a bit better.
Royal Giant HP buff! The card is mechanically a lot of fun but gets burned down so fast that it feels too hit or miss compared to Hog Rider (which is relatively consistent at getting 1-2 hits in per cast)
Princess feels frustrating sometimes as there is no hard counter to her. She doesn't die to Zap, so the best you can hope for is Arrowing her for an even Elixir trade. When she comes near the river, you can kill her with cheaper Troops but she's going to get 2 or more shots on your Tower for it. I just wish she was Zap-able so there was some way to get a hard counter on such a popular card.
Elixir Collector (HP nerf), Bomb Tower (lifespan reduction), and Freeze (rework IMO) are the only cards that seem oppressive to the meta (and honestly the game is fairly balanced, all of these problem cards have unique mechanics to them). Every Troop and damage spell feels unique and powerful in its own way. Bring on the new cards!
Thanks for reading! Feel free to check out my Twitch stream for more Clash Royale videos and strategy discussions!

7 Ways To Defend Giant + Mega Minion PushHello all,You may remember me from my (Musketeer + Ice Spirit Tech Guide) which was recently featured by Orange Juice! Today I bring you a quick guide on 7 different ways to counter the new Giant + Mega Minion push. I tried to vary to defensive cards […]

Clash Royale Mini Pekka vs Barbarian - Who Is Better?A Barbarian vs Mini Pekka conversation is a tough call. Having played a lot with Royal Giant decks, Giant decks, and Hog Rider decks, both will wreck your tank/win condition. They both play the same role in the current meta, that is to take down tanks (Royal […]

Hey gang! The Rum Ham is here to talk about the Clash Royale metagame. People often talk about the meta in terms of specific units, like "its a Prince meta" or "everyone plays Tombstones", but this can be a shallow understanding of what is really happening underneath individual card choices.The metagame is really the share […]